Welcome

Our Mission
Durham Warriors Project, Inc. is a 501(c)3 non-profit corporation which covers the costs for disabled veterans, active duty military and their families, and other non-profits to stay at Maine Forest Yurts in Durham, Maine.
Email or call us if you or someone you know is an individual, family, or non-profit group that would like to stay at Maine Forest Yurts!
Donations are tax deductible!
TAX EIN # 46-1511841
Click below to support
Durham Warriors Survival Challenge
Our first annual Durham Warriors Survival Challenge was held September 5th – 8th 2013 to raise money for military veterans and their families to stay for free at Maine Forest Yurts. We had a blast and the event was a success!
In total, 18 contestants from across the country, including four from Maine, took part in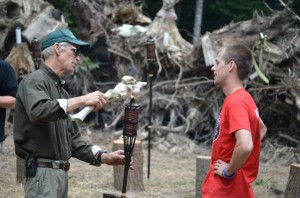 the competition.  The three teams of six contestants each had a surprise visitor with the appearances of former "Survivor" contestants Terry Deitz, Eric Reichenbach and Kenward "Boo" Bernis.
After four days of surviving and competing in the Maine outdoors, Russell O'Cain from South Carolina was voted the winner of the first Durham Warriors Survival Challenge!
Photos from the 2013 event can be viewed here.
Below are some nice articles, pictures and video of the event:
Watch the whole event! Episode 1, Episode 2, Episode 3, Episode 4
'Survivor' winner has the right idea
'Survivor' campers compete in Durham
Survival skills raise cash for South Portland 'Survivor' winner's Durham camp
Everyone survived first 'Survivor' benefit
LAST MAN STANDING: Cordova man recovers from broken neck, wins 'Survivor'-style event
Great stills from Durham Maine's own photographer Lisa Littel
Video compliments of our friend Dan Mooers PART 1, PART 2
Video compliments of Bill Brock: PART 1, PART 2, PART 3, PART 4, PART 5, PART 6